The Green Rocket Cafe – Review
June 30, 2016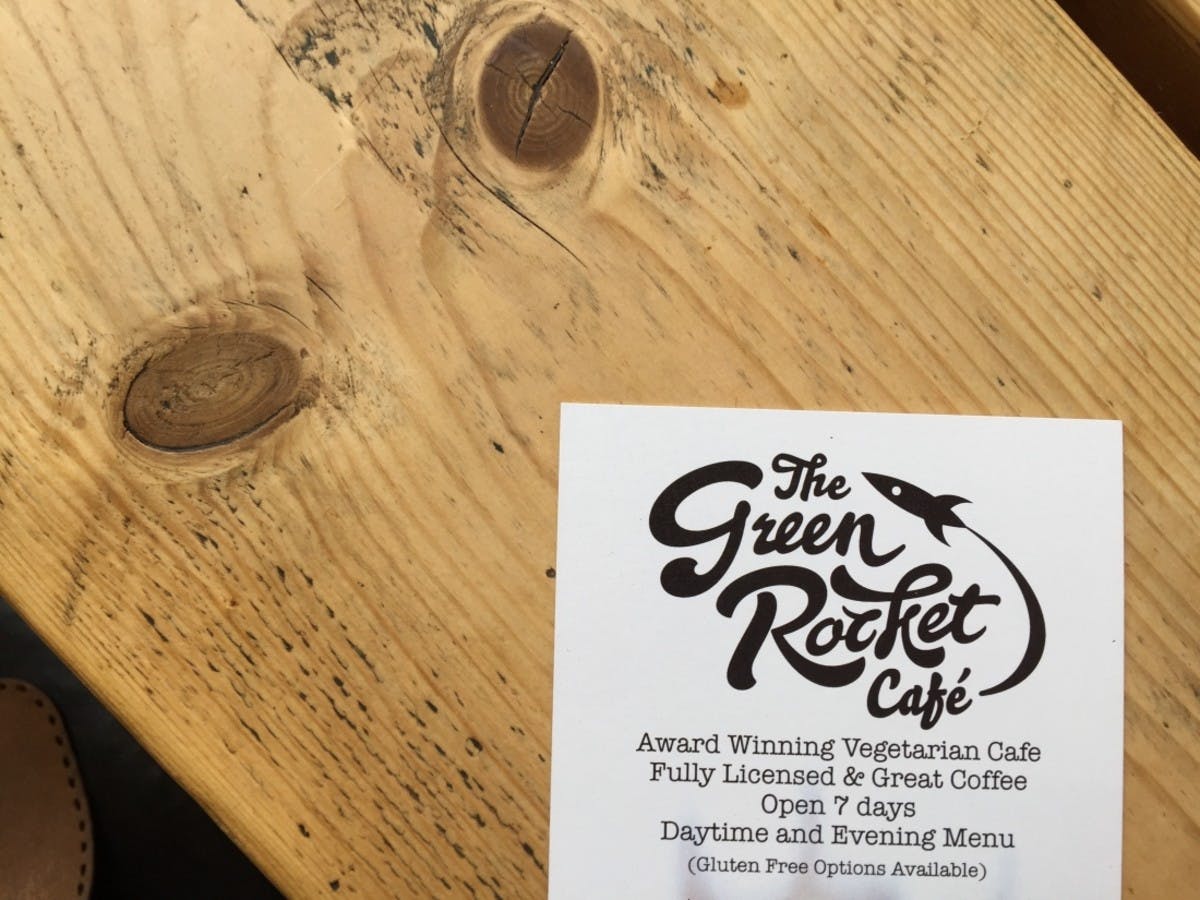 A couple of months ago, my good friend Olivia and I, took a girly weekend break to Bath. It was a jam-packed Bank Holiday weekend. We planned to take in the sights, exploring The Roman Baths, The Royal Crescent, Bath Abbey and The Assembly Rooms. We were also super-excited spend an evening at the famous Thermae Bath Spa, with it's natural thermal mineral waters, roof-top pool and stunning panoramic views over the city.
Aside from all the main attractions, one of the main things we were looking forward to during our visit, was the food. Being a non-dairy, non-gluten eater, naturally we both did some online research before the trip, and I'm so happy we did – because we stumbled across The Green Rocket Cafe!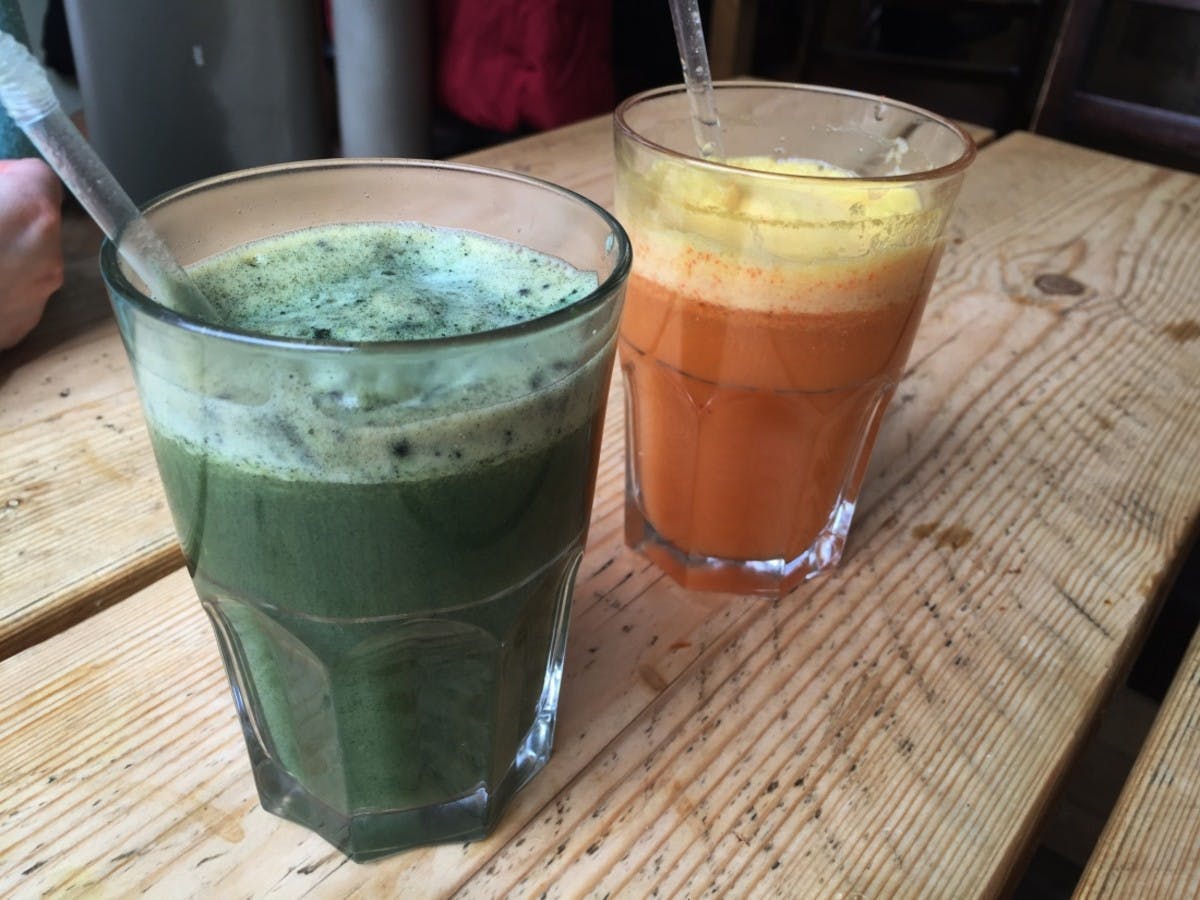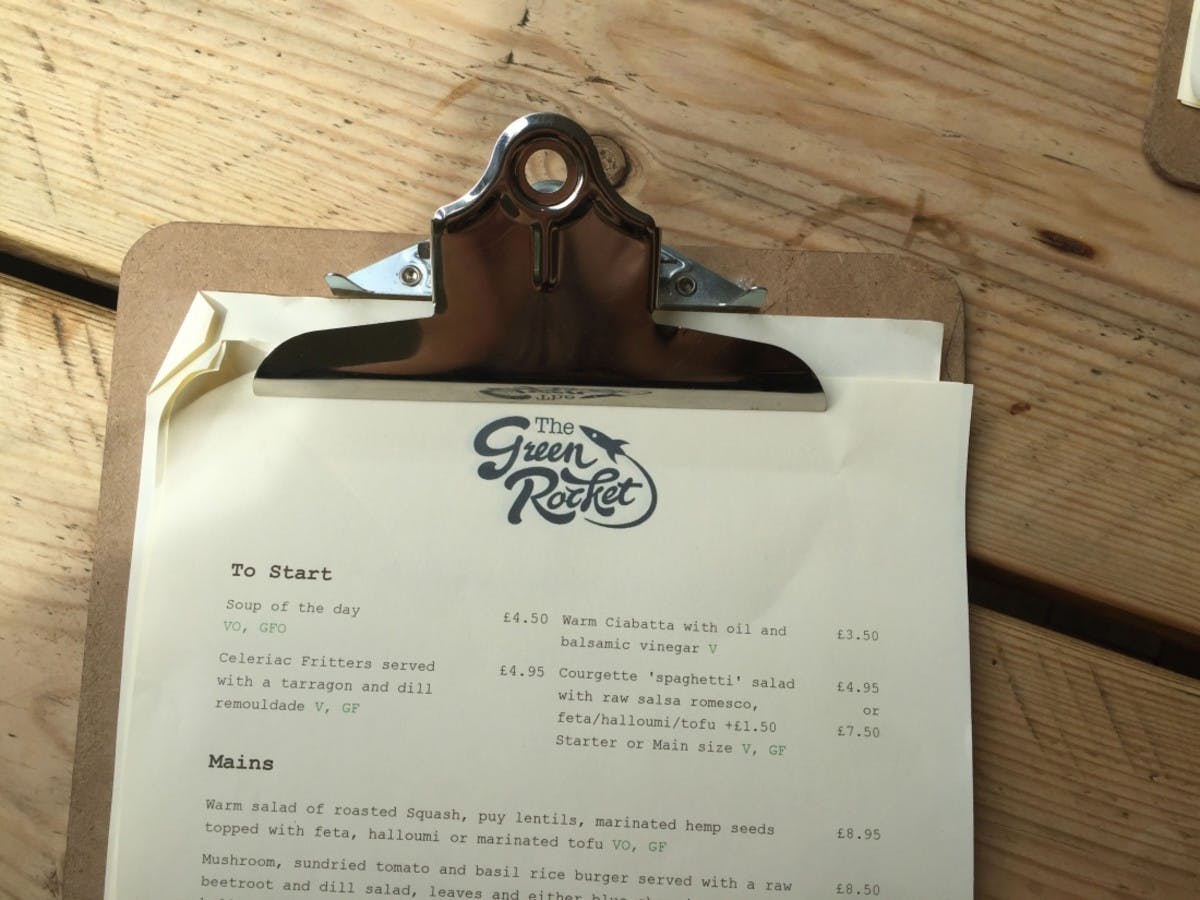 An award-winning vegetarian Cafe, that caters to both vegan and gluten-free diets, Green Rocket Cafe was a must to try during our stay. The cafe is located right in the heart of Bath, only minutes walk away from the famous Pulteney Bridge.
We decided to head there for an early-dinner on our last day, before spending the evening at the Thermae Spa. When we arrived, we could tell immediately that this was a popular spot in the city. We were lucky to get a table! The atmosphere was vibrant and bustling, and we were seated swiftly at a nice table by the window.
Whilst we browsed the daytime menu, we ordered a couple of juices. I went for the Green Rocket – a blend of Apple, cucumber, broccoli, celery, parsley and spirulina. Olivia tried the Classic – a blend of Carrot, orange and ginger. Both were beautifully refreshing!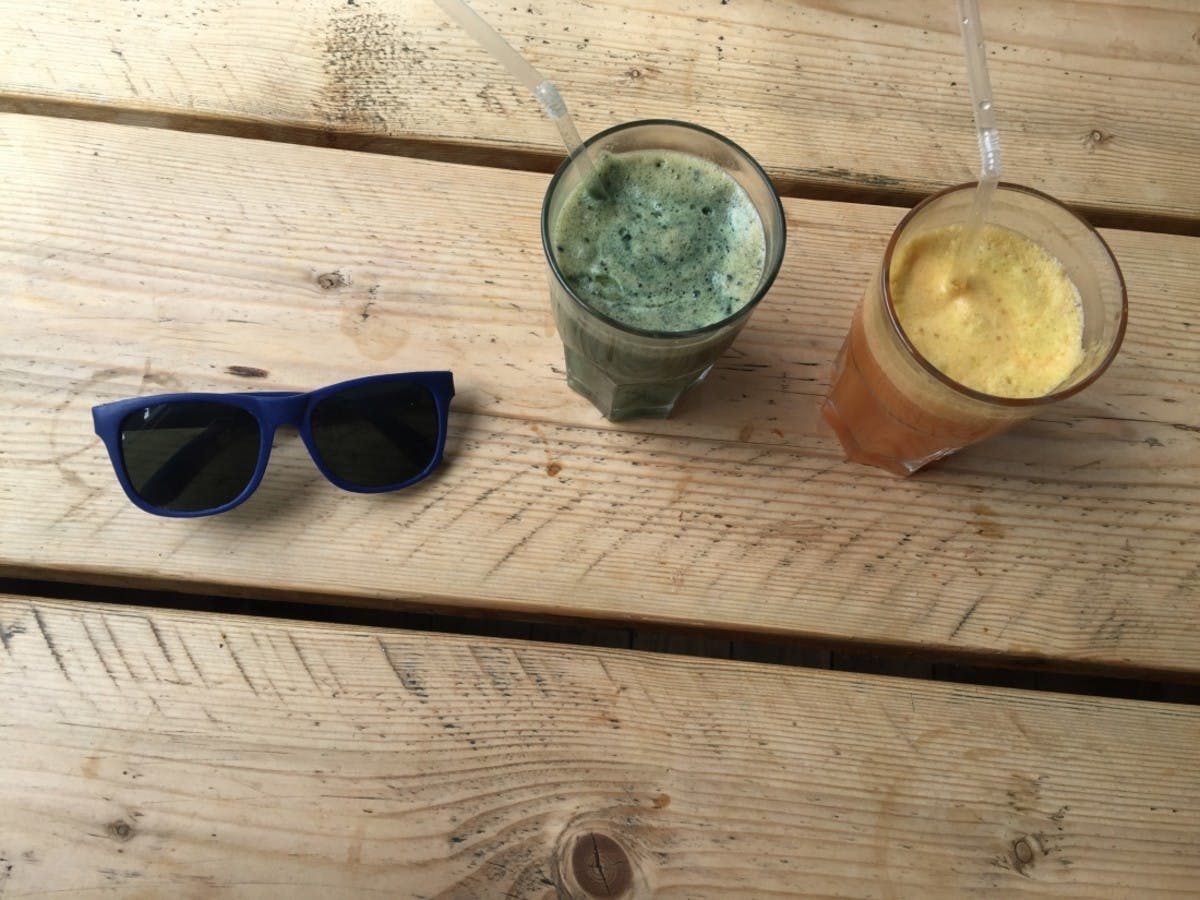 When it came to the food, I ordered the Mushroom, Sundried Tomato and Basil Rice Burger – served with a raw beetroot salad and vegan cashew 'cheese'. I also couldn't pass up the opportunity to order some Beer-Battered Onion Rings as a side, as I very rarely get the chance to eat these since turning gluten -free!
Olivia ordered the Mezze – served with felafel, tahini sauce, beetroot muhammara, baba ghanoush, quinoa tabbouleh, zaalouk, harissa marinated carrot salad, dukkah flatbread and halloumi. Annnnnnd breeeaaattth. Yes, all of that crazy-good stuff on one plate!!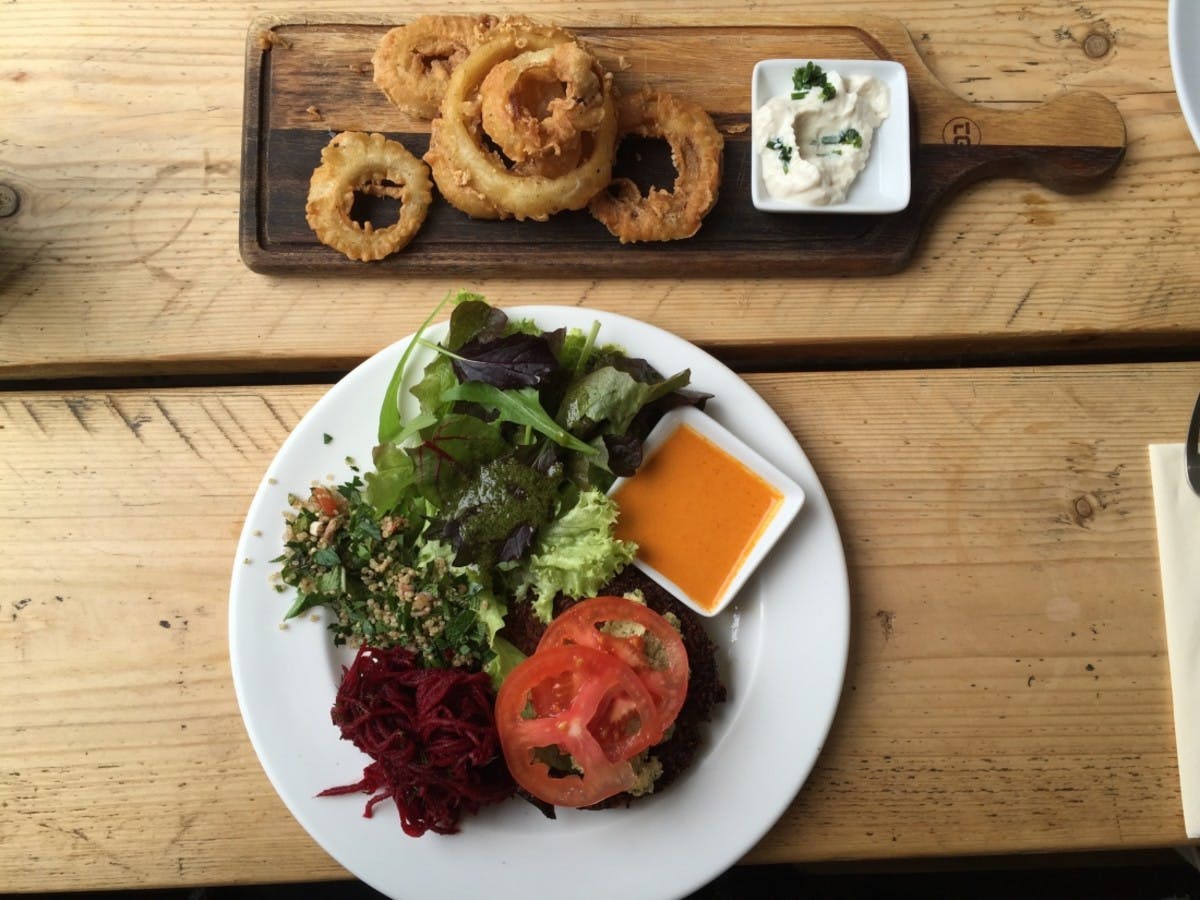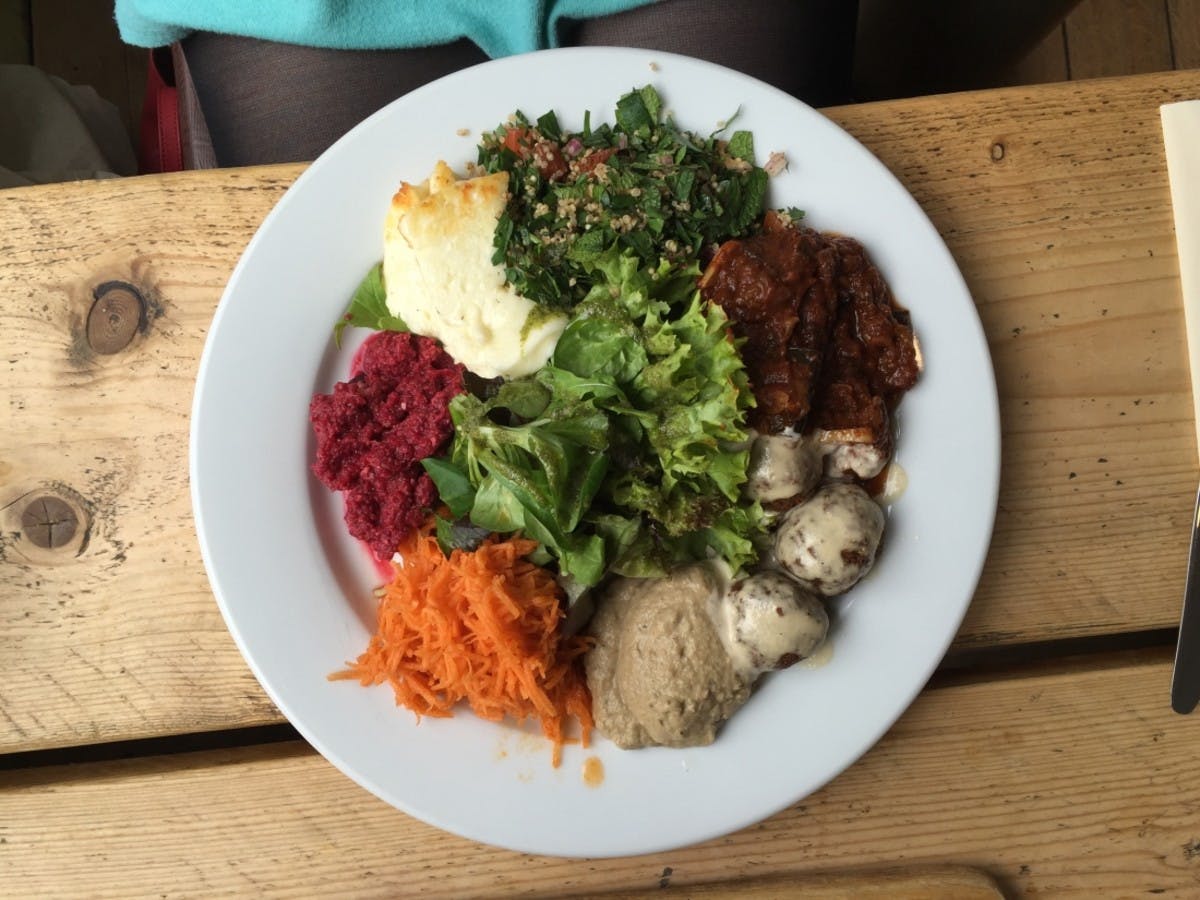 After our juices, the mains did not let us down in the slightest. Both of our plates were so stunningly colourful and fresh. You could tell everything had been freshly prepared, and made with love. The quality of the ingredients shone through, and all the flavours were so bold and well combined. It was amazing to be able to have something so healthy and wholesome, at such a great price. It's the kind of plant-based nutritious food I wished was more readily available in the current restaurant landscape.
My favourite thing by far was the gluten-free Beer-Battered Onion Rings with vegan mayo. The onion rings were incredibly crispy, and were elevated even more by those undertones of beer. A crunchy onion ring with a little dip of creamy, herby mayo? Perfect.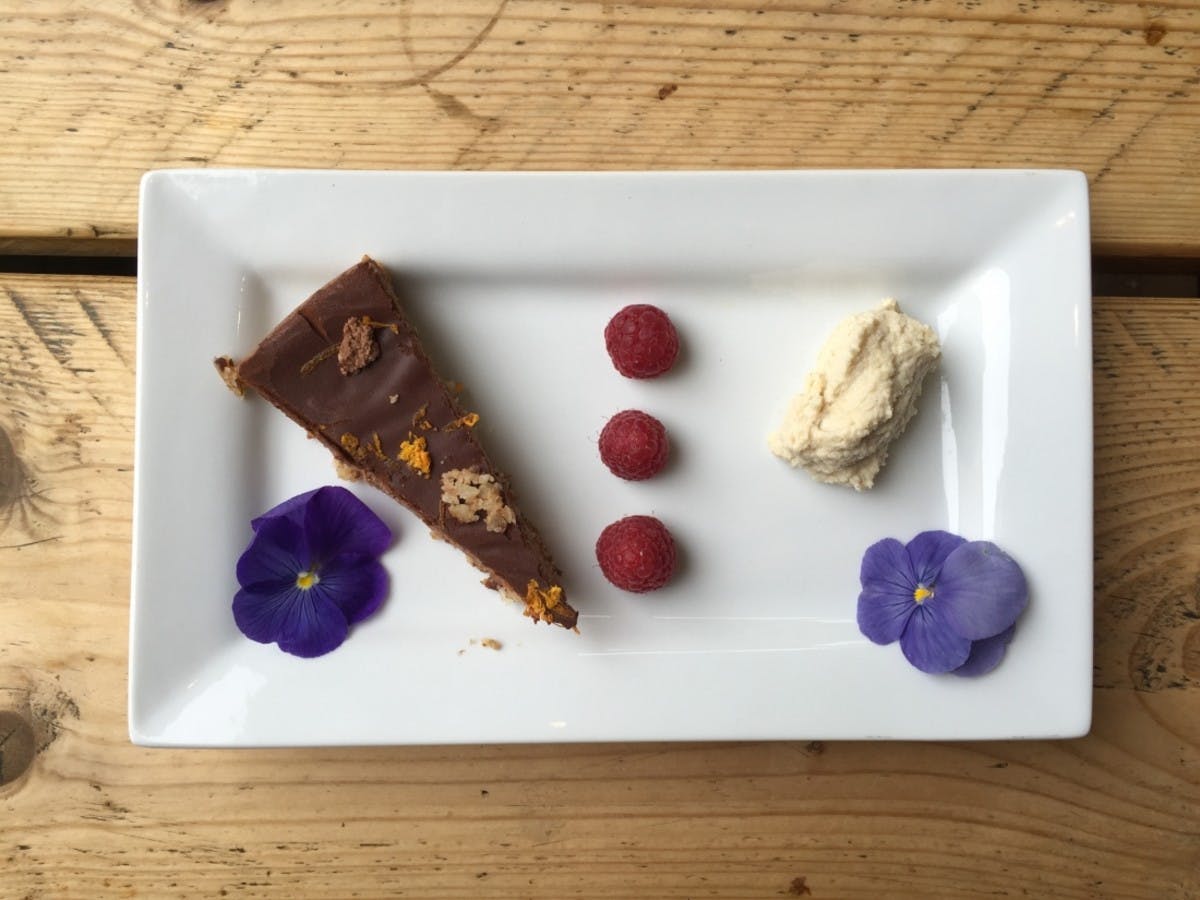 As the mains were so impressive, we couldn't leave without trying dessert. Olivia and I were both pretty full, as the portion sizes were wonderfully generous!! So we decided to share a dessert. We agreed on the raw, vegan + gluten free, Chocolate Orange Tart with vegan cream to share.
When it arrived, we couldn't believe how beautiful it was! Plated with raspberries, and edible flowers – the dessert looked like a stunning piece of art. It wasn't hard to get a good photo! It was also delicious. You could tell the dessert was recently handmade, and the sweet natural orange flavours balanced so well with the creaminess of the chocolate.
With all that being said, The Green Rocket Cafe was the perfect place to rest our legs and enjoy a relaxed meal, after a busy day of sightseeing.
Whilst we were relaxing in the cafe, we spent some time reminiscing over some of the polaroids we had taken, and the weekend as a whole. It was our last foodie dining experience in Bath, and it definitely rounded off our getaway perfectly.
Find out more about The Green Rocket Cafe here.