Planning A Baby Shower
April 24, 2018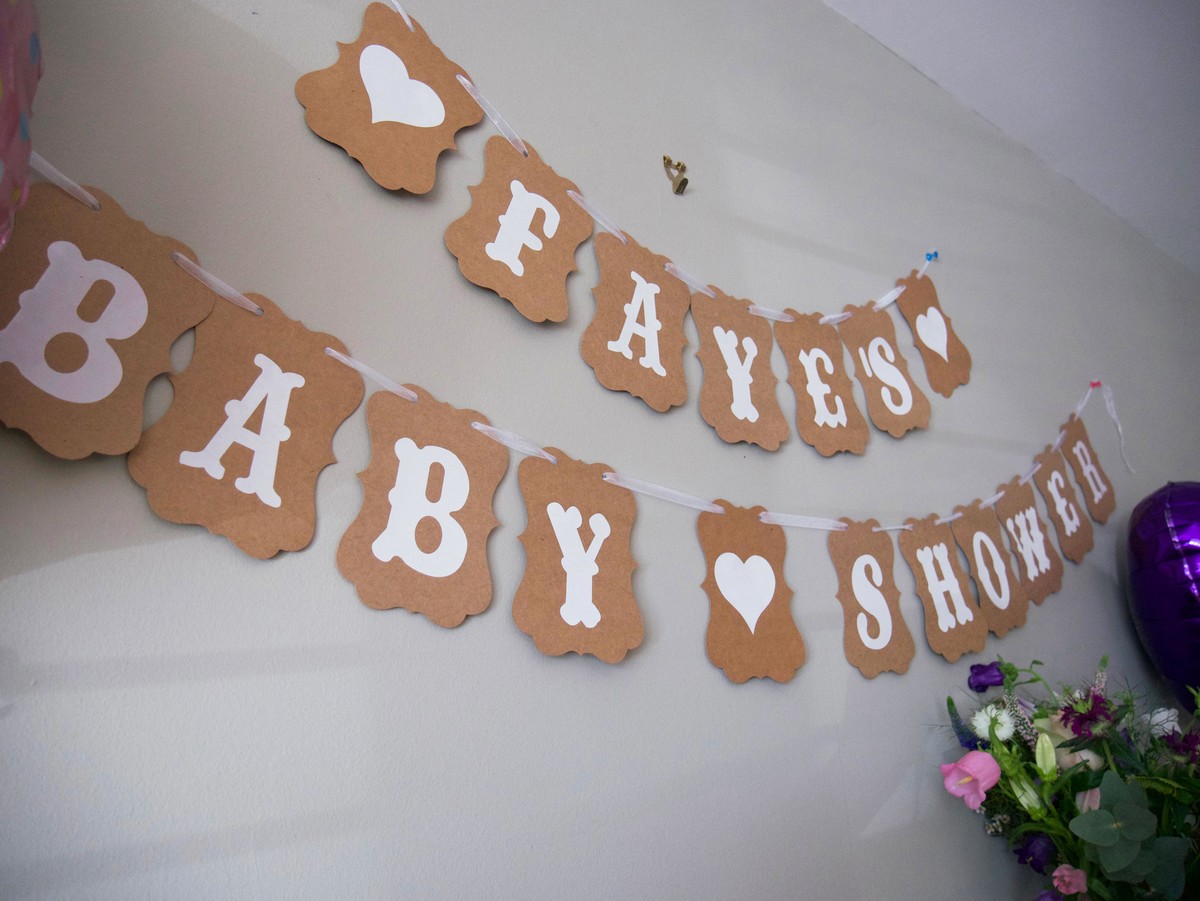 What did I learn very early on when planning a baby shower?
Pinterest and eBay are your best friends.
Yes, over the last couple of months I have been scouring the internet to find the best deals and ideas for my sister's baby shower. As always, our lovely internet did not let me down! I searched Pinterest and eBay daily to put together what I hoped would be, a baby shower to remember.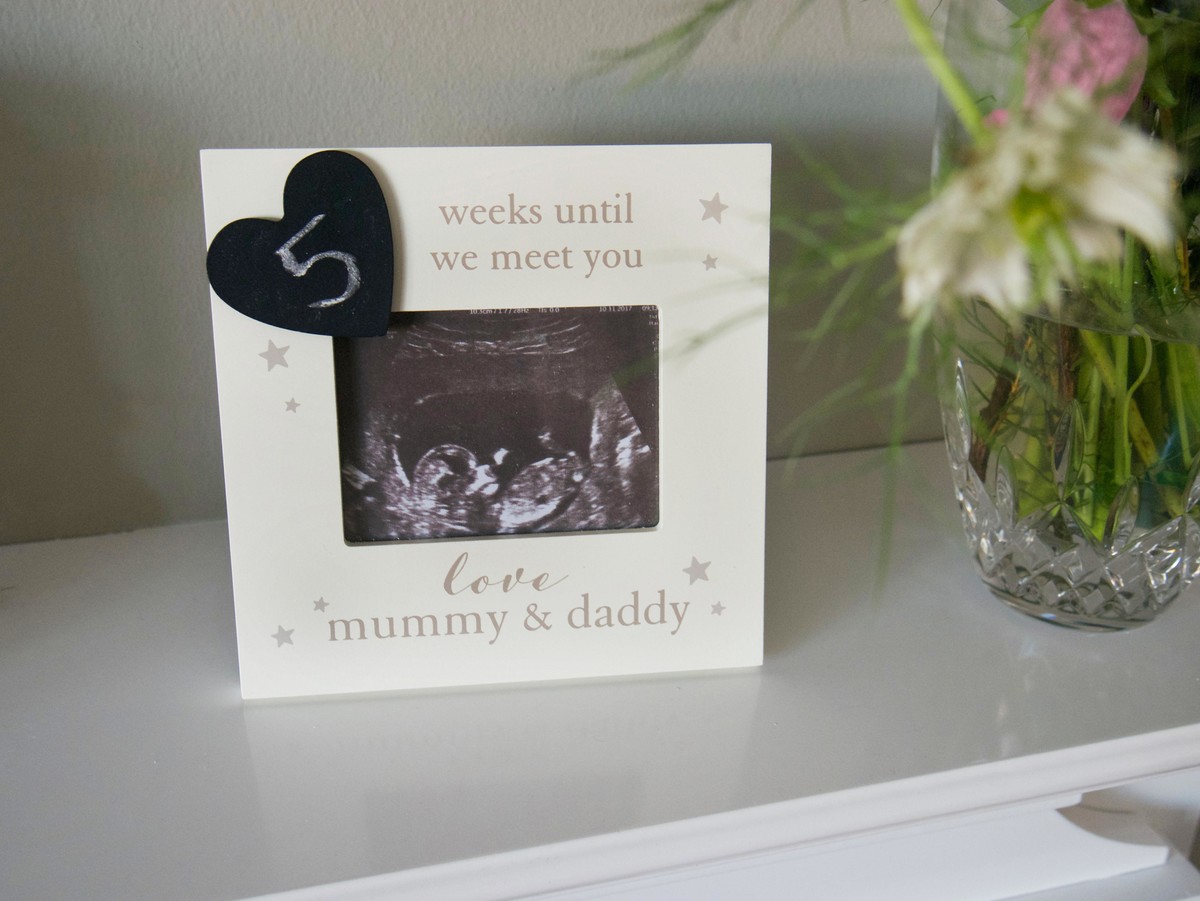 I am happy to report that after months of planning, the shower was a huge success! My sister, Faye, was delighted with everything I had planned. All the guests seem to enjoy the food + games, and passed on lots of lovely compliments. For any baby shower, I feel like a happy mum-to-be should be the main priority. So I was just so pleased to see Faye enjoying herself on the day, and getting even more excited for what's to come.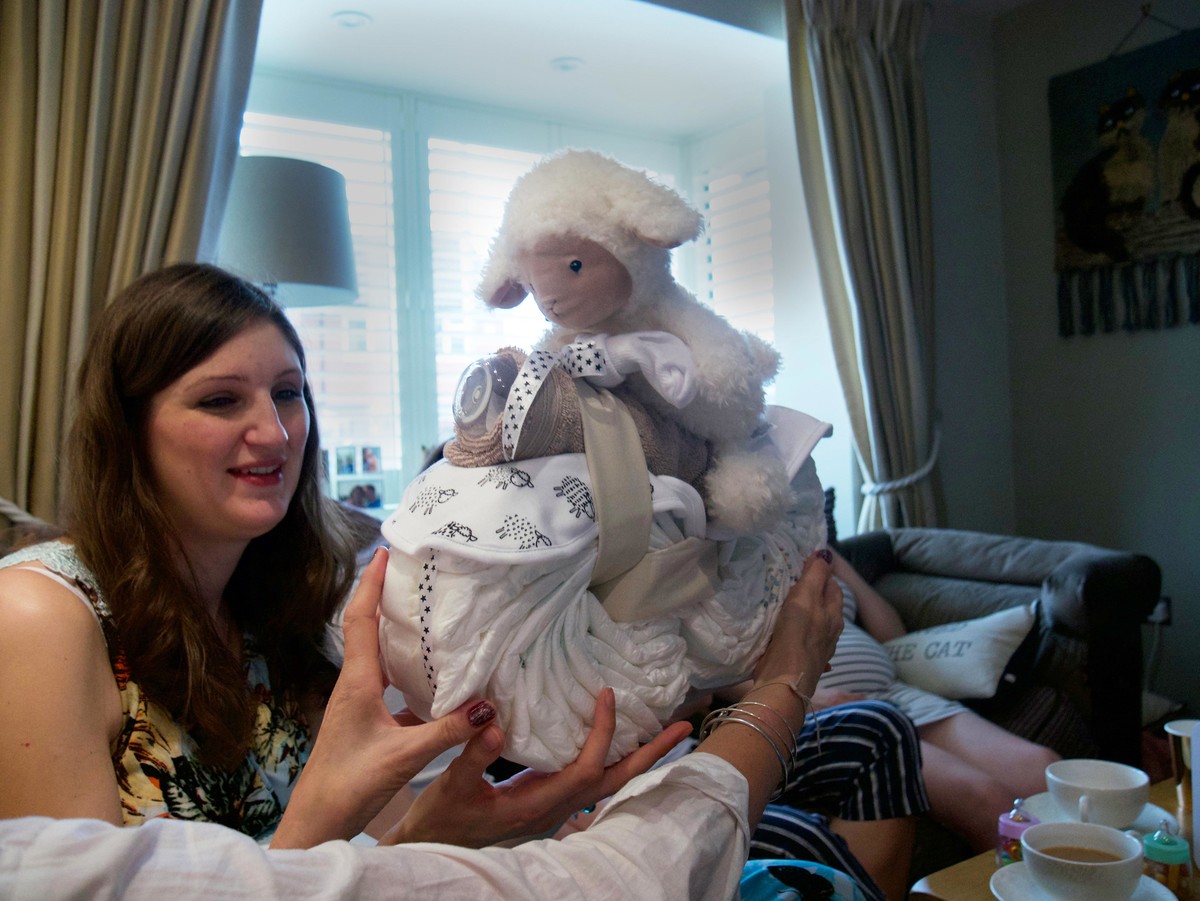 Planning A Baby Shower
I don't know about you, but not many people I know of have actually been to a baby shower before, or know what's really involved. I think there's a couple of reasons for this. The first being quite simply that not everyone decides to host one. The second being, that it's a fairly new tradition in the UK which has recently come over from America.
So… what elements are involved in planning a baby shower?
Baby-themed party decorations
Baby-themed party games
Party food + drinks
Party favours
Party music
Let me take you through this one (baby) step at a time!
Party Decorations
Baby-themed party decorations are usually a good place to start for any baby shower. This helps you to build a theme for your shower, and also helps to tie everything together. So whether that's simply blue/pink for a boy or girl, or a woodland themed extraveganza, the possibilities are endless!
My sister and brother-in-law decided to keep the gender of their first-born a surprise, so I opted for a neutral theme. I went with a trendy kraft look with highlights of white and gold.
To start off, I purchased a bunting style banner in white from eBay here.
I also found a beautiful range of white and gold party supplies from the always amazing Ginger Ray. These added a touch of elegance to the baby shower, and looked so beautiful! I purchased many of these items from eBay at great value.
Equally you can find lots of baby-themed party supplies from stores such as Hobbycraft and John Lewis.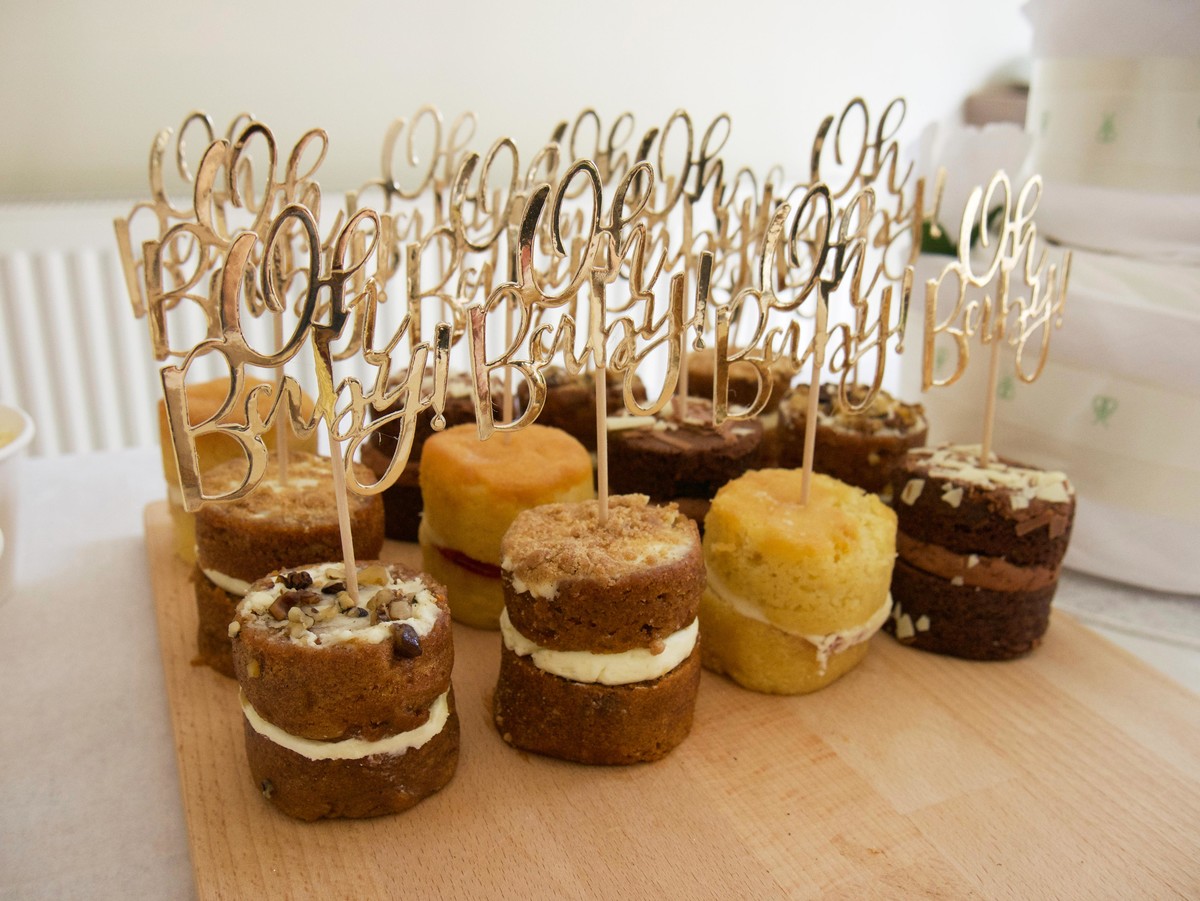 Party Games
Pinterest is a great place to start here, and gave me heaps of inspiration for baby shower games. After a quick search and a few (too many!) pins later, I finalised a handful of games to play.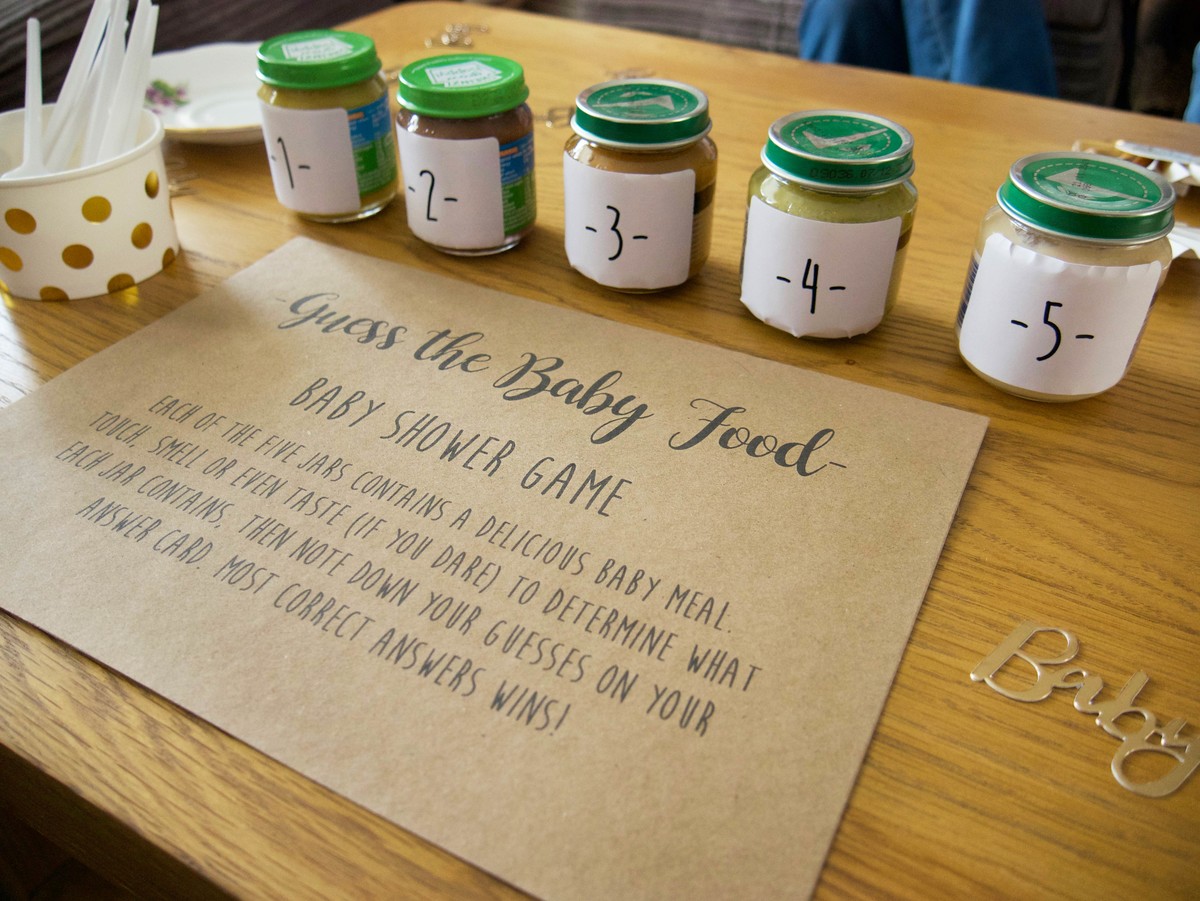 A number of games were sourced from crafttlittlefox, the most amazing eBay seller. I purchased lots of stationary items from here, and they were all so gorgeous and helpful. It meant that guests didn't need to scramble around for bits of paper, and ensured all the games ran smoothly. I had lots of compliments over how professional everything looked, and the stationary worked so well with the rest of my theme.
The games played were:
Guess the Baby Food – Guests are given 5 mystery jars of baby food to inspect, smell and taste (if they dare!) The lucky lady who guesses the most correctly wins! We had plenty of fun with this one, and lots of laughter was had trying to figure out what the flavours were.
How Big is Mummy's Tummy? – Guests are given a piece of string to tie around the tummy of mummy-to-be. After everyone has written down their measurement, mummy's tummy gets measured with a tape measure. The lady with the closest guess wins!
Who's that Baby? – Guests are asked to bring a baby photo of themselves. These are pegged to some string and hung up for people to guess who is who. This can be a fairly relaxed game for people to play in their own time, or as more of a conversation starter.
Dad Knows Best – Before the shower, ask the daddy-to-be a series of questions about the pregnancy, birth, and baby. The answers are written down and sealed for the party. For an added bonus, consider a short video or audio clip of the answer, particularly if it involves a funny story. At the baby shower, ask the mummy-to-be to guess his answers out loud. The results can be hilarious! This one is a really fun game that helps you bring the partner into the mix, without having to be there.
Disney Baby Game – Ask guests to match a series of Disney children names to their Disney Parent. This is a great one for any Disney fans! My sister (a complete Disney-buff) aced this one and absolutely loved it.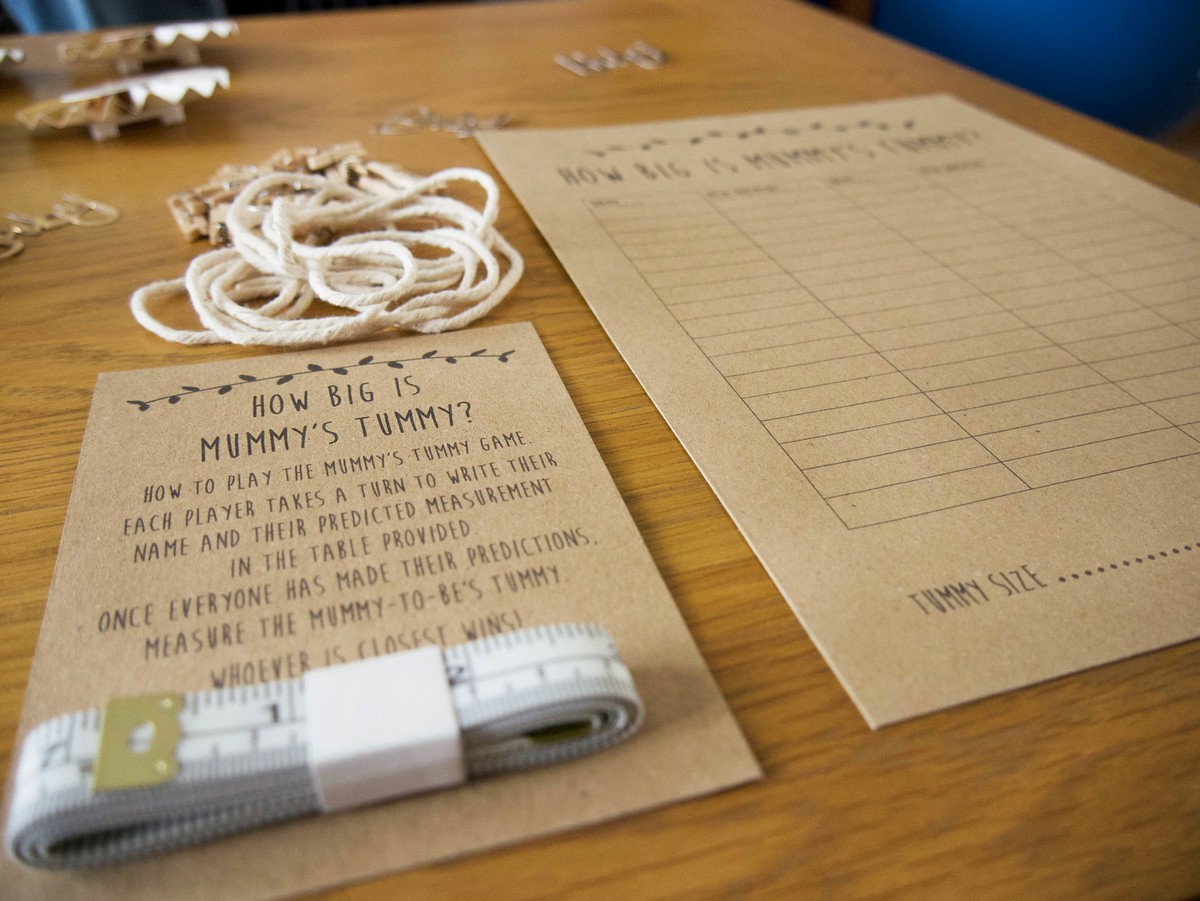 From all of my stationary, I also made little packs up for every guest with everything they should need. As well as the game cards, I also included an advice card and predication card for each guest to fill out at their leisure. This was a great way for guests to pass on their wisdom and keep a record of their predictions. I also thought it was a nice keepsake for the parents-to-be, to smile and laugh at after the shower, and for many years to come.
Party Food + Drinks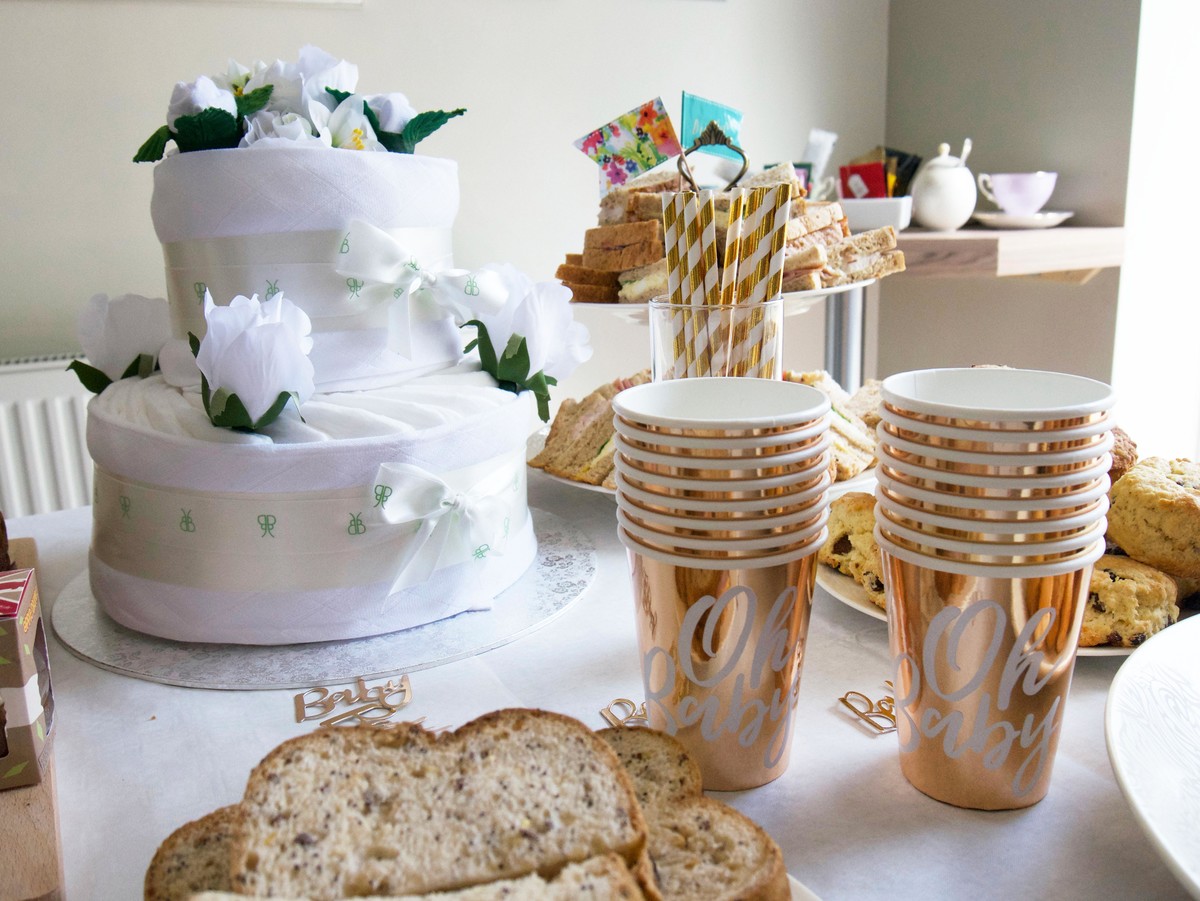 Finger food and buffets are ideal for a baby shower, and makes catering easy, regardless of how many people you have attending.
For the buffet we laid out all the standard affair: sandwiches, mini pork pies, mini sausage rolls, crisps etc.
For drinks, we whizzed up a healthy tropical smoothie and found some non-alcoholic Prosecco for mummy-to-be! We also provided Prosecco + Pimm's for those wanting an alcoholic tipple.
I also liked the idea of offering some baby-themed pieces for the spread, to make the buffet a little bit more special. My sister's husband splashed out on this beautiful white Nappy Cake pictured above. It was a great feature piece for the table, but also doubled as a lovely gift for Faye.
I sourced some baby cakes from Sponge, one of my favourite local cake makers. I ordered one of their Baby Party Boxes.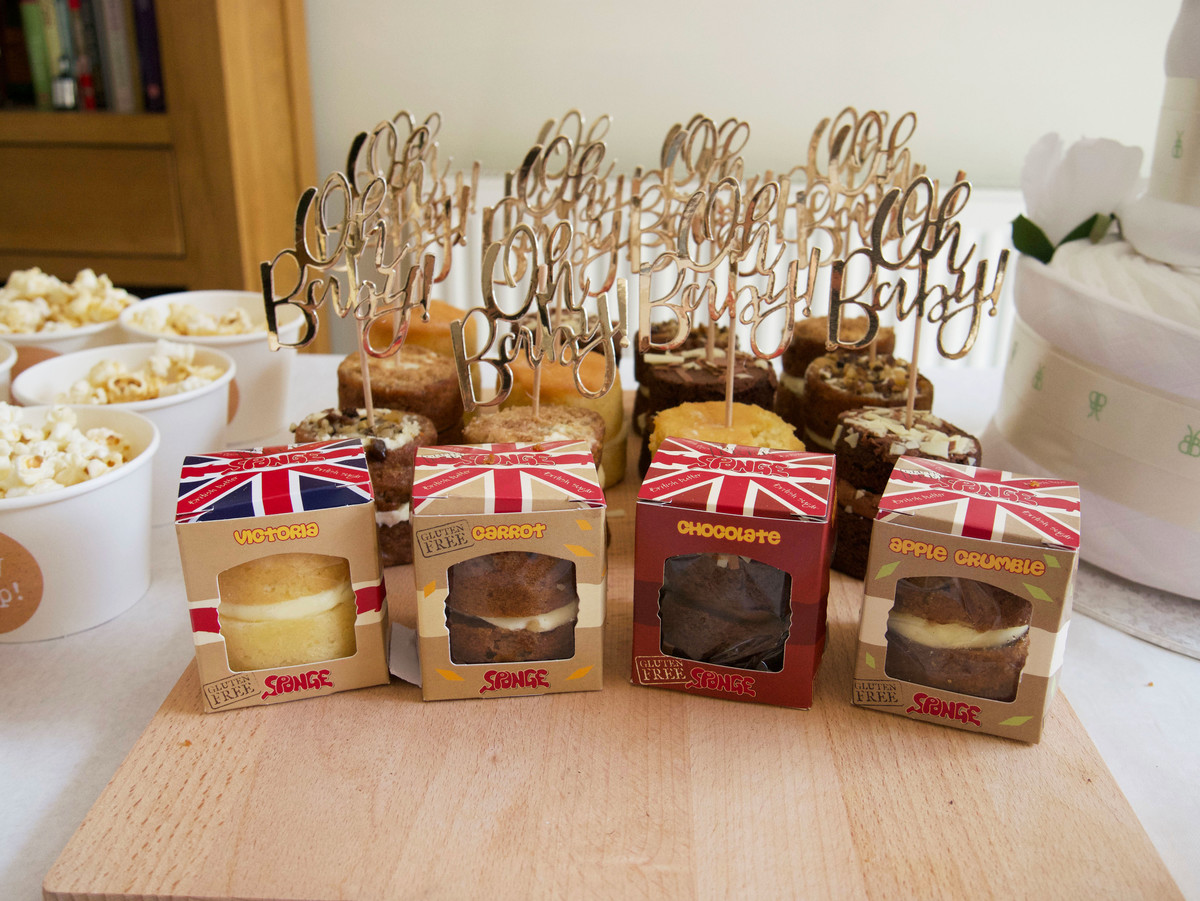 Being gluten-free, I went for their gluten-free selection, but there are a number of different box varieties to choose from. The mini cakes were freshly baked the day before I needed them, and delivered straight to my door.
They were amazing value, and tasted absolutely delicious. I can honestly say that they where one of my favourite additions to the shower! Finally, I topped them with the cutest Oh Baby! cake toppers from Ginger Ray
I also took inspiration from Pinterest, and made up some Ready to pop! popcorn tubs.
I found these shabby chic stickers for a great price on eBay, and purchased some plain white tubs too. After little effort, and a couple of minutes sticking labels to the tubs – voilà!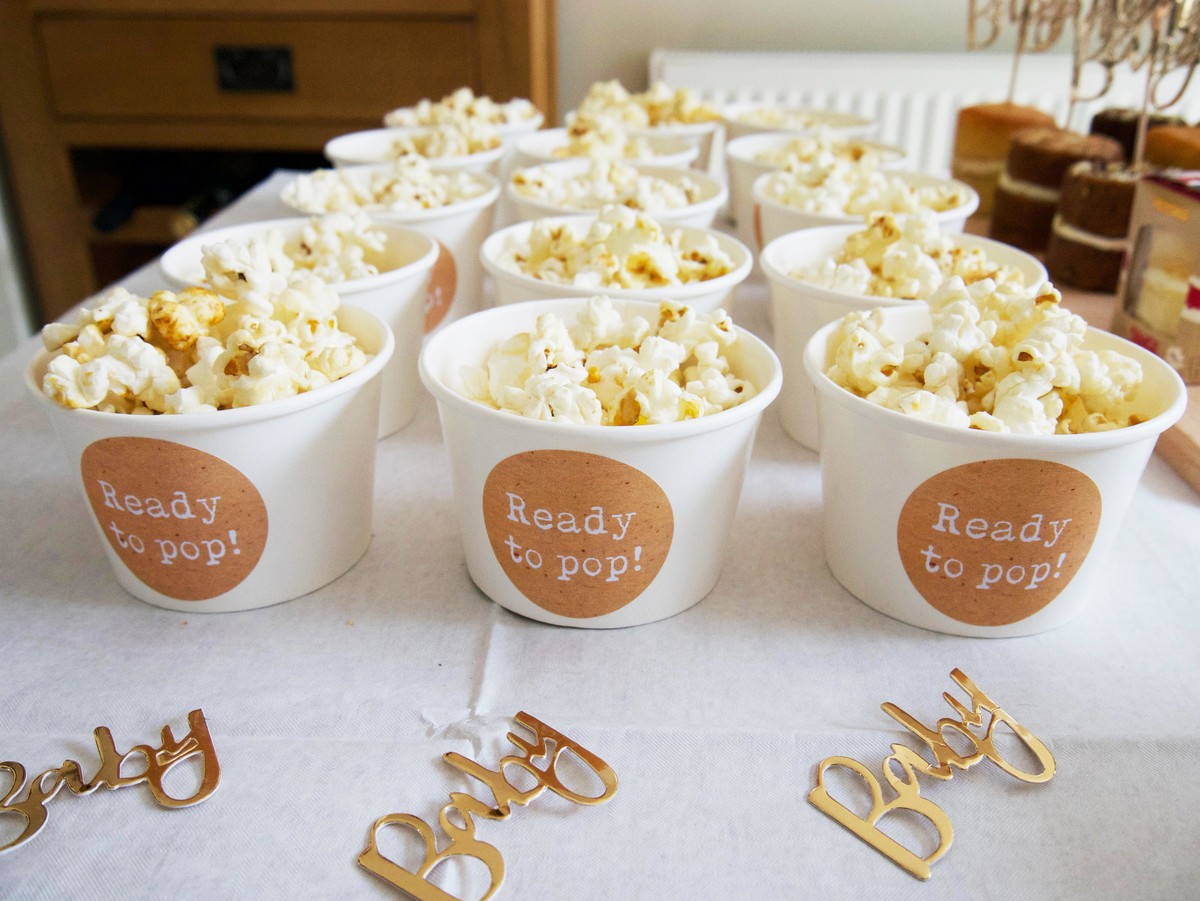 Party Favours
If your budget will allow, it's always a nice idea to include some mini favours for guests to take away as a memory of the shower.
Due to my current obsession with succulent plants, I decided that this would be a great lasting gift to give to all those who came along. The little favours had the added sentiment of growing with the baby.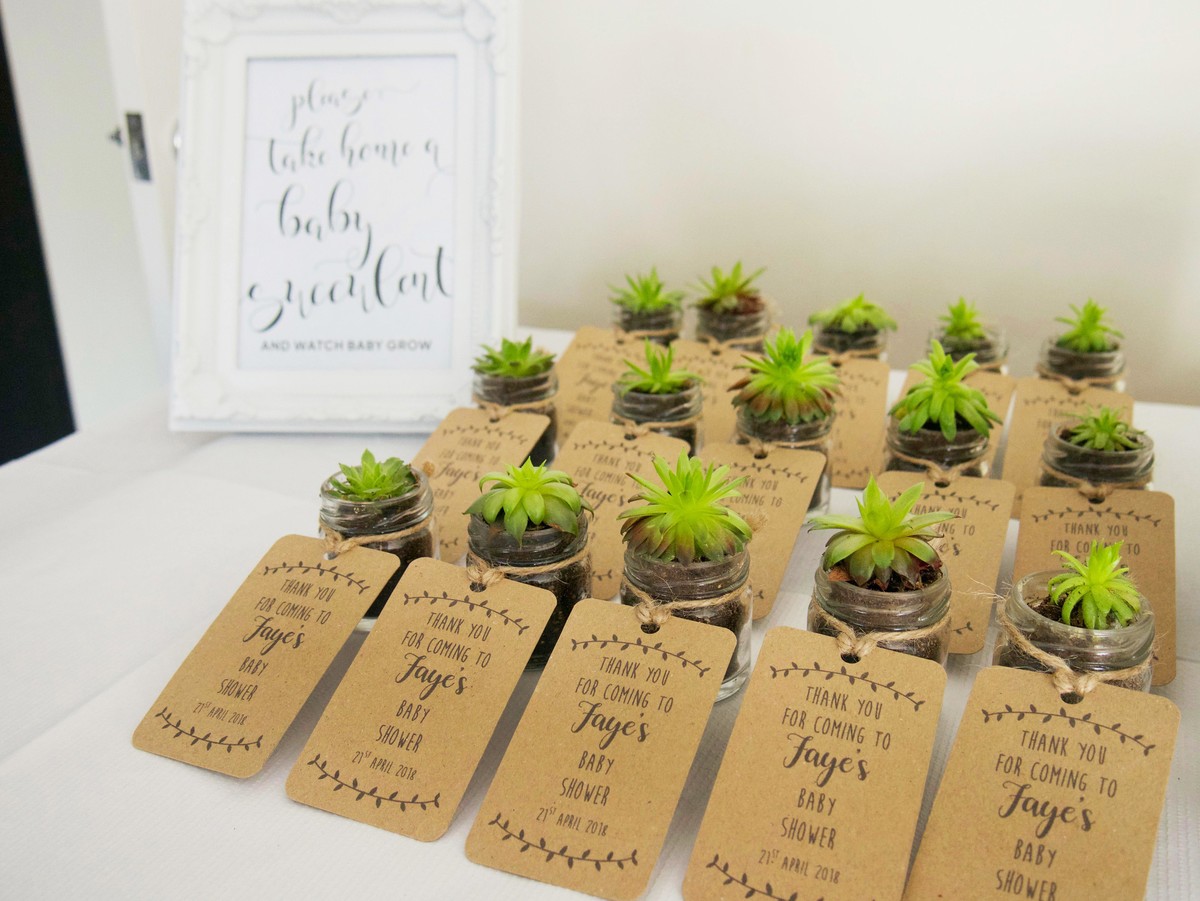 I found these baby succulent favours on… you guessed it… eBay! These were from a lovely seller known as seedhouseplants. They were so helpful, and allowed me to create a custom order for a specific quantity.
These were fantastic value, working out at just over £2 per plant! This allowed me to provide some beautiful favours without breaking the bank.
I tied them with little thank you tags from craftylittlefox – an invaluable eBay seller for all my baby shower stationary.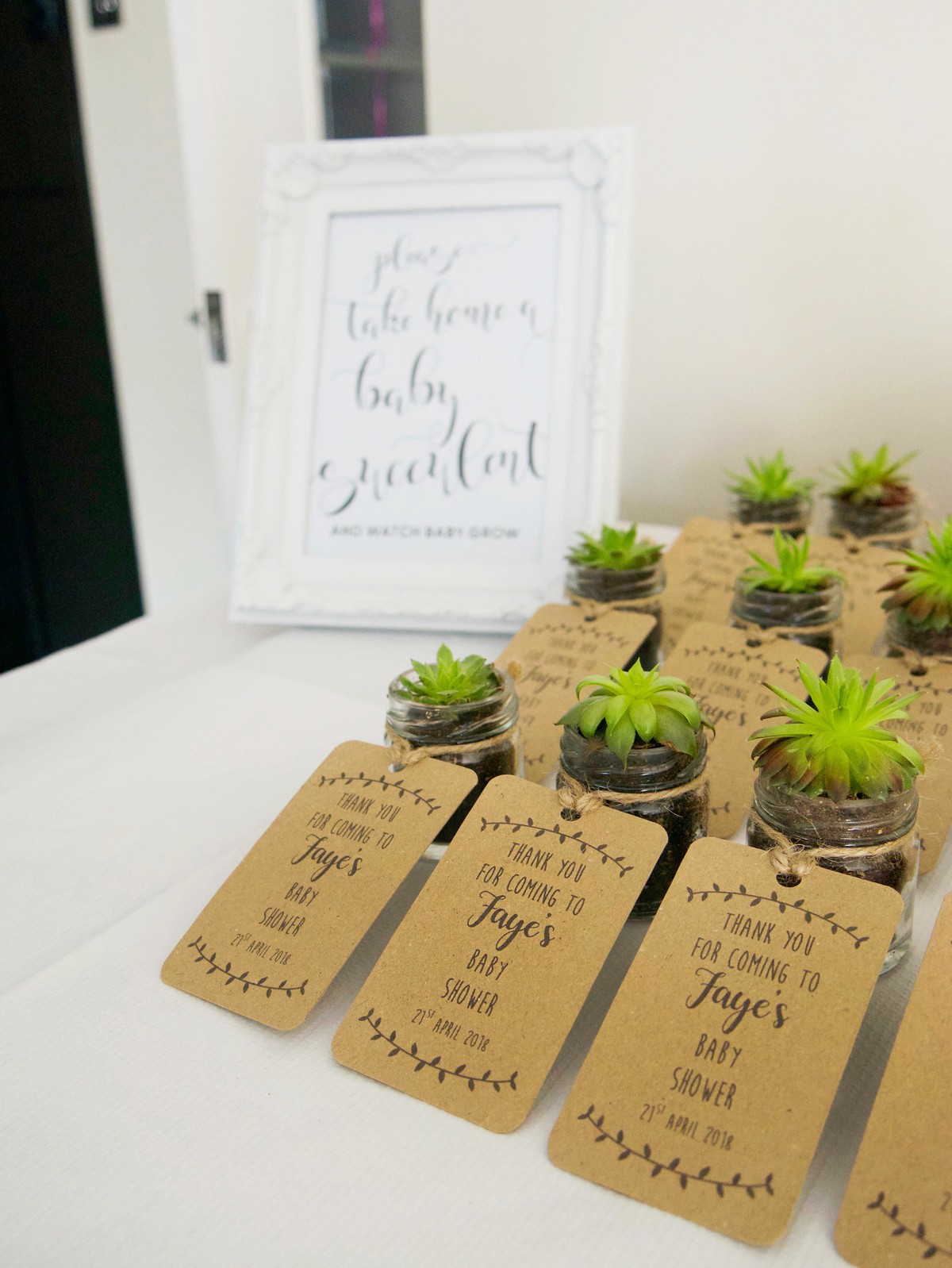 I also found this cute printable sign on Etsy, which I printed and framed in a spare frame from home. I placed this next to the favours, to encourage people to take a little succulent on leaving.
Party Music
Finally you will need an epic playlist to bring everything together and get everyone in the mood to celebrate! Thankfully another idea gathered from Pinterest.
Here I collated every baby, boy or girl related song I could possibly think of. Spoiler alert, there's a lot. Personal favourites include Push It by Salt-N-Pepa and Ice Ice Baby by Vanilla Ice. The playlist is pretty eclectic with something to please all guests.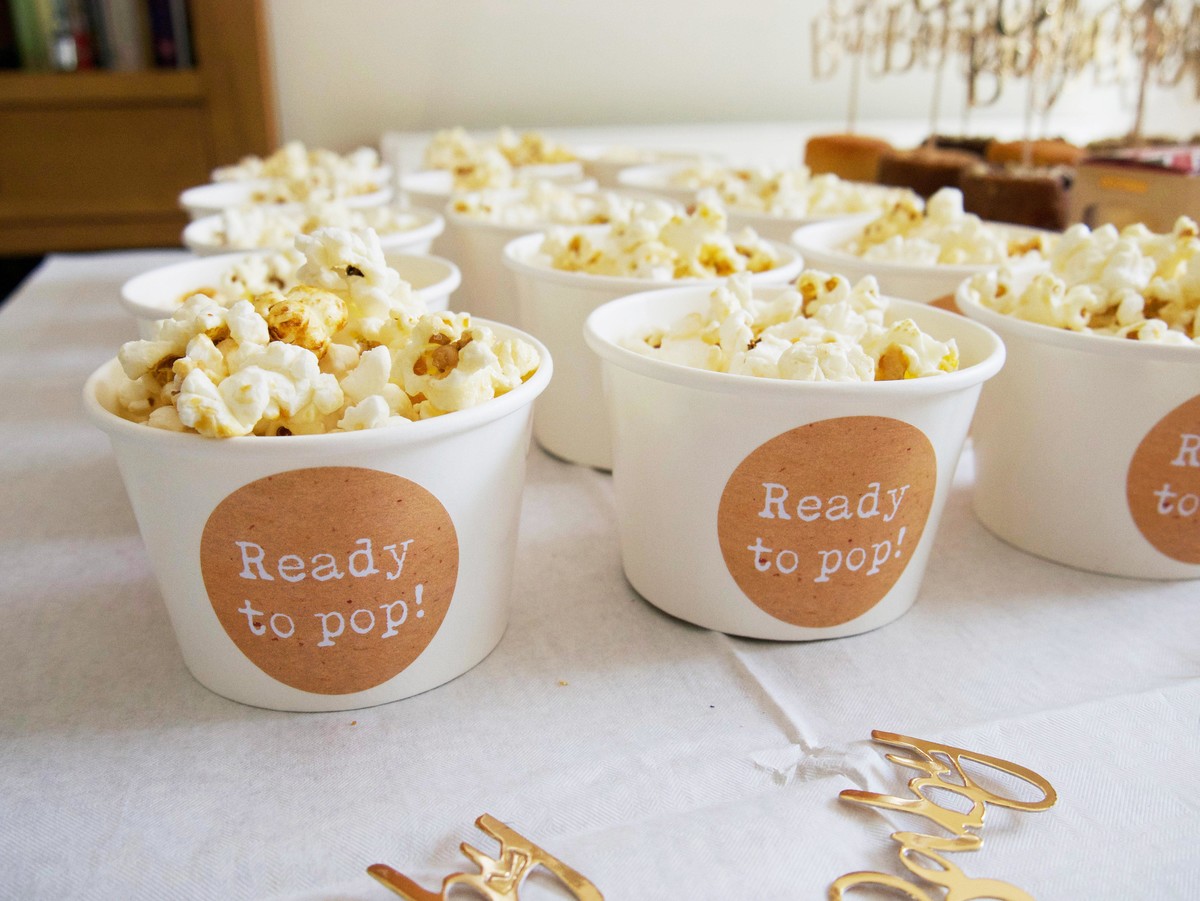 And that's it! Once you have everything in place, you're free to set-up your baby shower, whether at home or at a venue. I always find a bit of prior planning goes a long way, and leaves you free to relax and celebrate the arrival of a new baby human! Plus it's always lovely to see a mum-to-be getting excited to start her new adventure!
Good luck + happy planning!
If you're planning a baby shower and need any further tips, feel free to ask questions in the comments below x