Wild Thyme – Review
March 10, 2016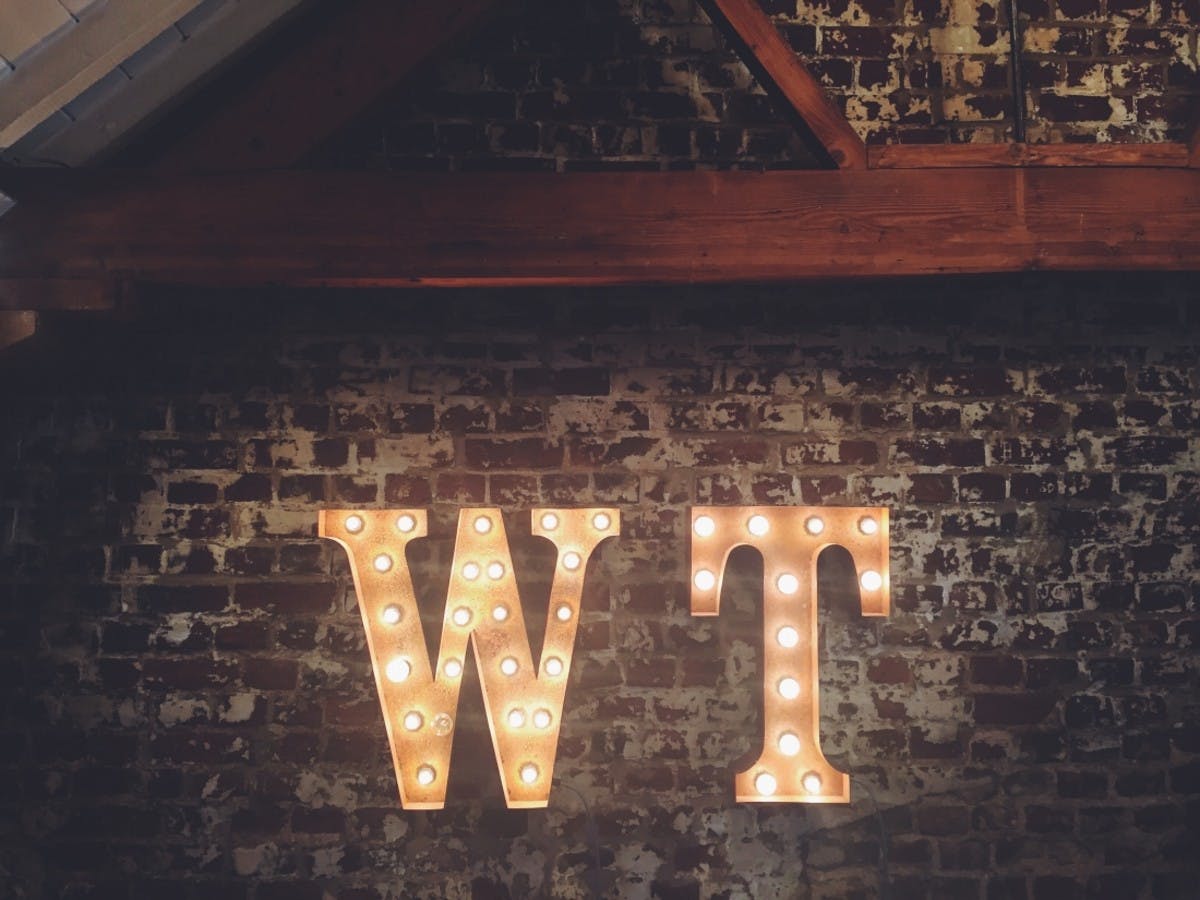 Today I'm bringing you a little write-up of one of my favourite places to eat in the city!! Wild Thyme is a vegan and vegetarian cafe nestled right here in the heart of Norwich. It's located upstairs above Rainbow Wholefoods, and just so happens to be less than a 2 minute walk away from my workplace!
Due to it's convenient location, and it's ever changing seasonal menu, I tend to go to Wild Thyme at least once a week for a takeaway lunch. They cook everything fresh to order, and it makes such a wholesome, satisfying lunch! It's so rare to be able to get healthy food to takeaway, so it's a real treat having somewhere like Wild Thyme right on my doorstep.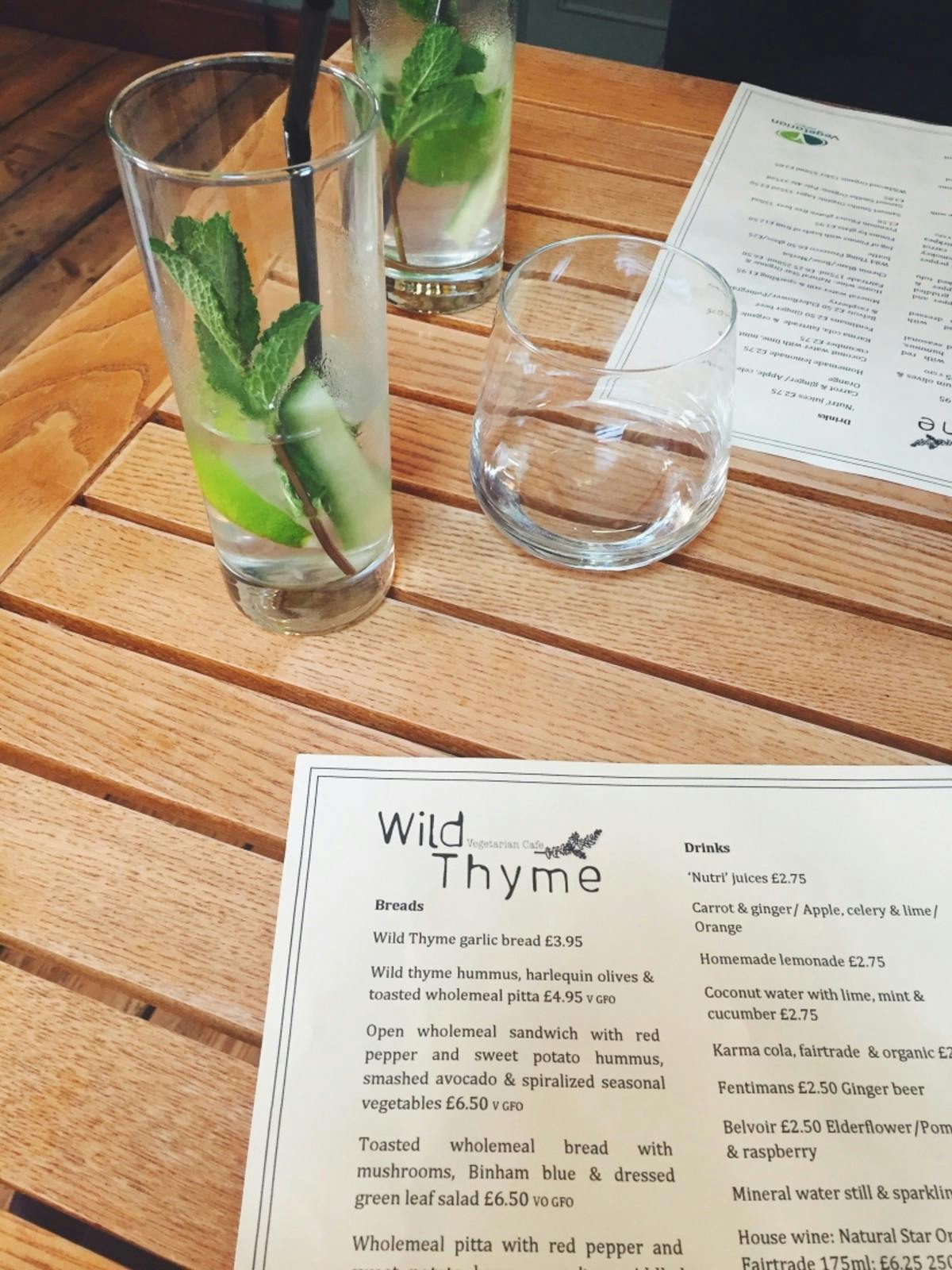 My mum and I recently planned to meet here for a catch-up over lunch, so I decided to take this opportunity to do a full write-up!
One thing I will say straight away, is just how amazing the atmosphere and surroundings are at Wild Thyme. No matter what time of day you go in, it's always bustling and busy – and this lunchtime was no exception! You can tell Wild Thyme is a popular spot for many in the city, so there's usually a lovely warm atmosphere.
The surrounding restaurant is also beautiful. With it's exposed brickwork and barn-like wood beams, there's a rustic feel to the place, which I absolutely love! Plus in the summertime, you can eat out in the quaint little courtyard, which is a rare opportunity in the city centre.
On arrival, we were greeted by a friendly waitress and very quickly seated to our table. To get us started, we both ordered coconut water with fresh mint, lime and cucumber. So, so good!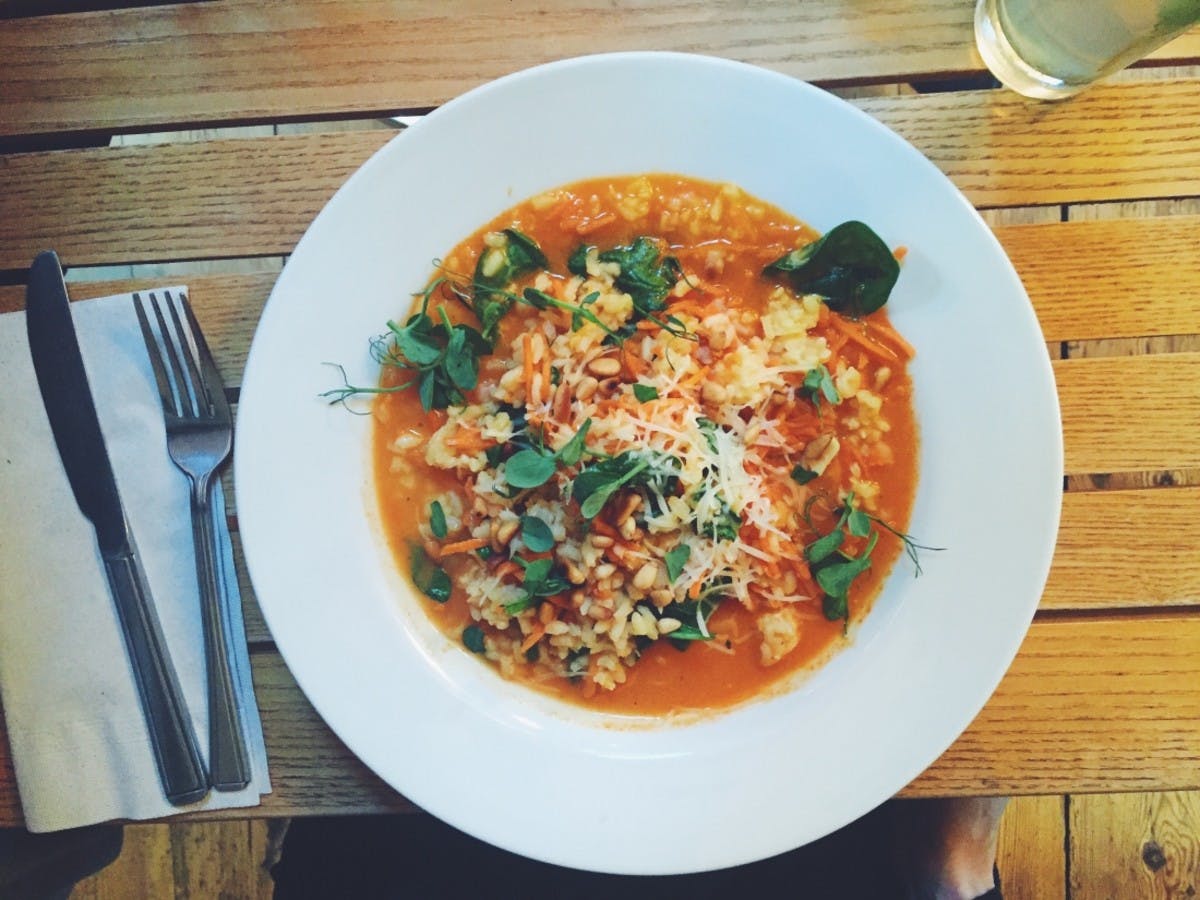 Now let's get down to the nitty-gritty. The food!
While not being a vegan or vegetarian myself, I love Wild Thyme because it caters so well to food allergies and intolerances. There's tonnes of vegan and gluten free options to choose from, and nearly everything else can be adapted to your dietary requirements.
My mum and me are both meat eaters, and I can honestly say that even the most hardcore of carnivores will be able to find something that appeals to them here. She ordered the Carrot and Lemon Risotto with wilted spinach, toasted pine nuts and veggie parmesan (pictured above!) I ordered the Herbed Polenta Cake with braised lentils, wild mushrooms and seasonal greens (pictured below!) This was supposed to come with a free-ranged egg on top, but I asked for the vegan option, and it was swapped out for the most incredible cashew nut cheese!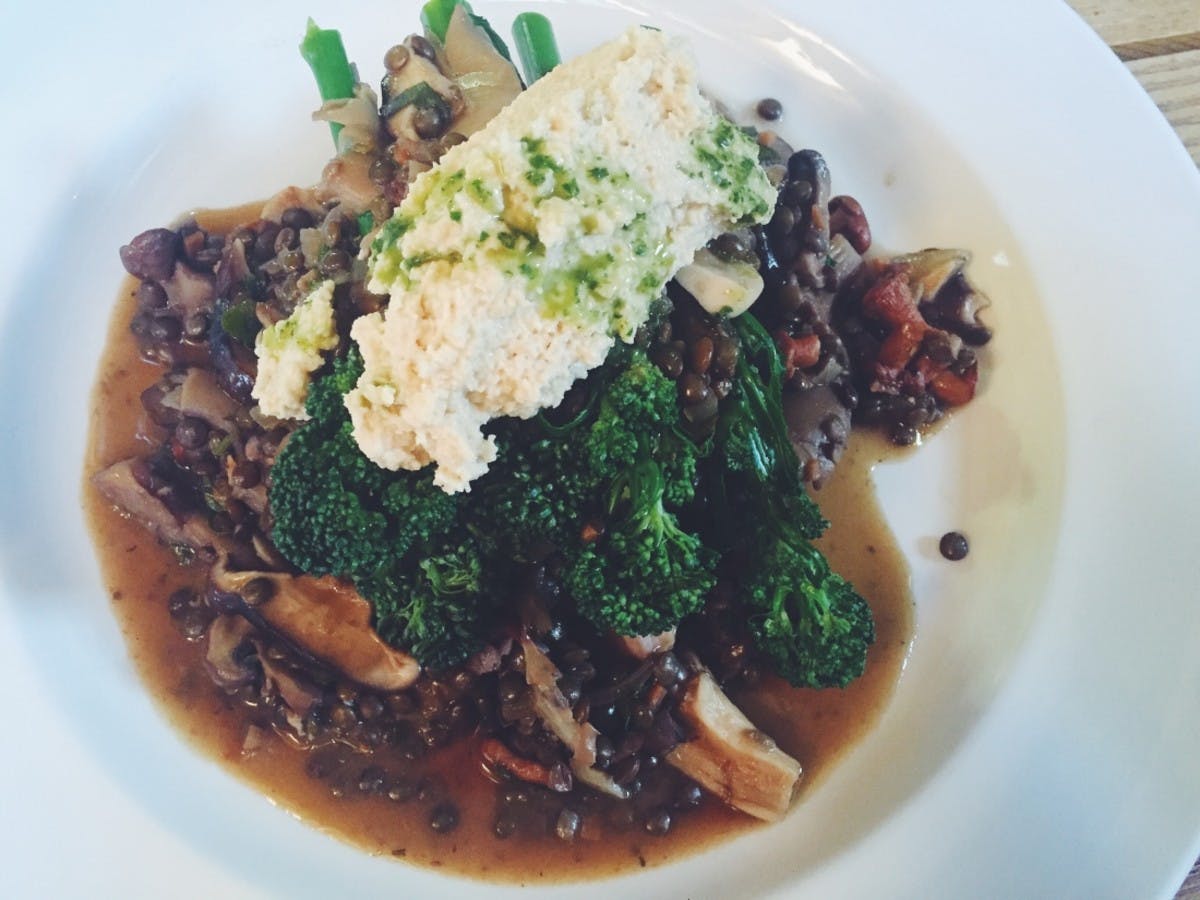 We both tried a bit of each others dishes to compare, and agreed that we couldn't fault either dish! You could tell that all the ingredients were so fresh and high quality, and each of the dishes had so much flavour. Often, I think people's main worry with veggie food is lack of flavour, and a variety of flavours – but you really don't have to worry about that here!
All the flavours are so well matched, complex and thought out. My polenta cake dish felt more nicely filling and satisfying than most of the meat dishes I've ever had!
Each of our main dishes were so good, that we couldn't leave without having dessert!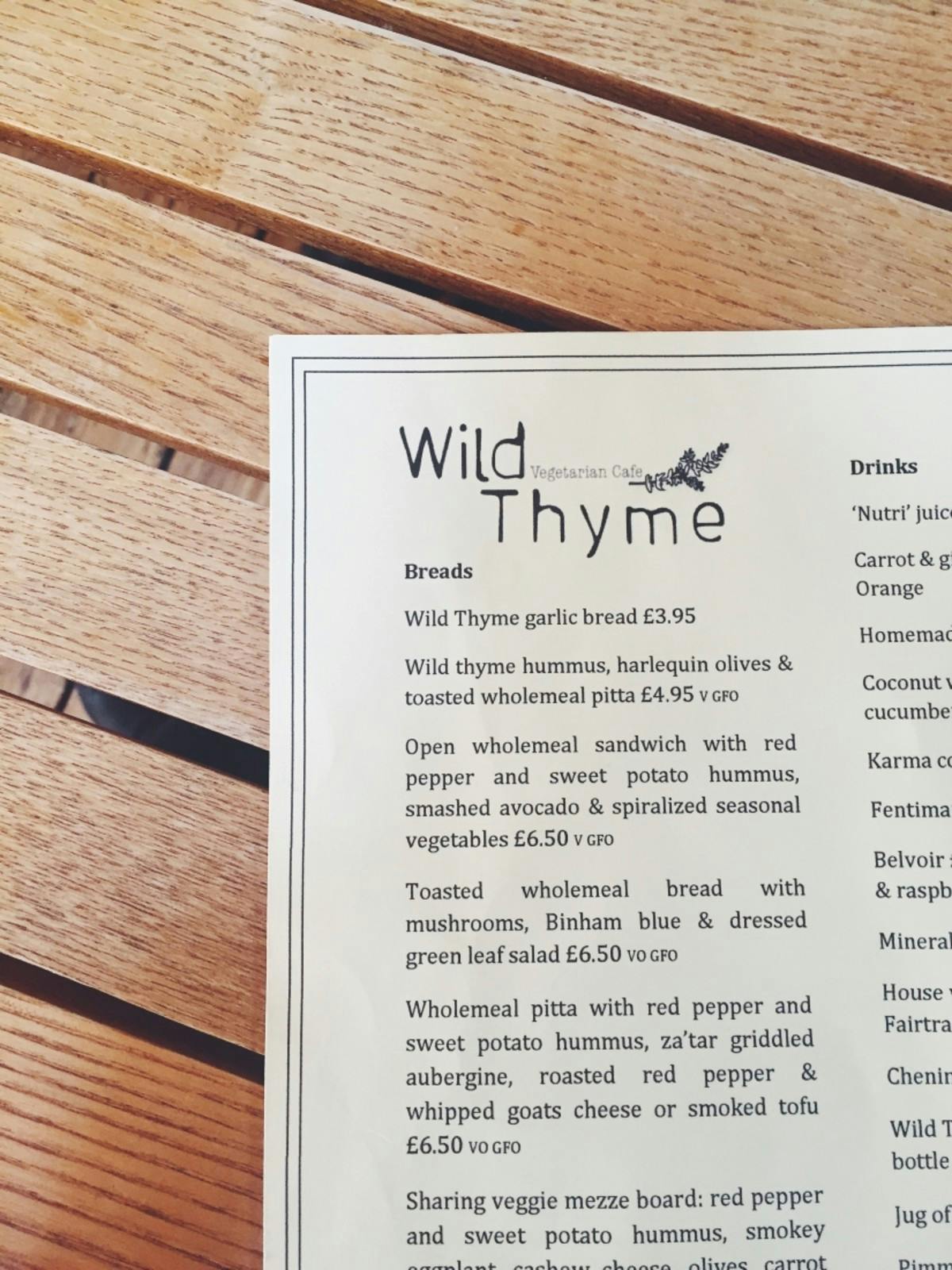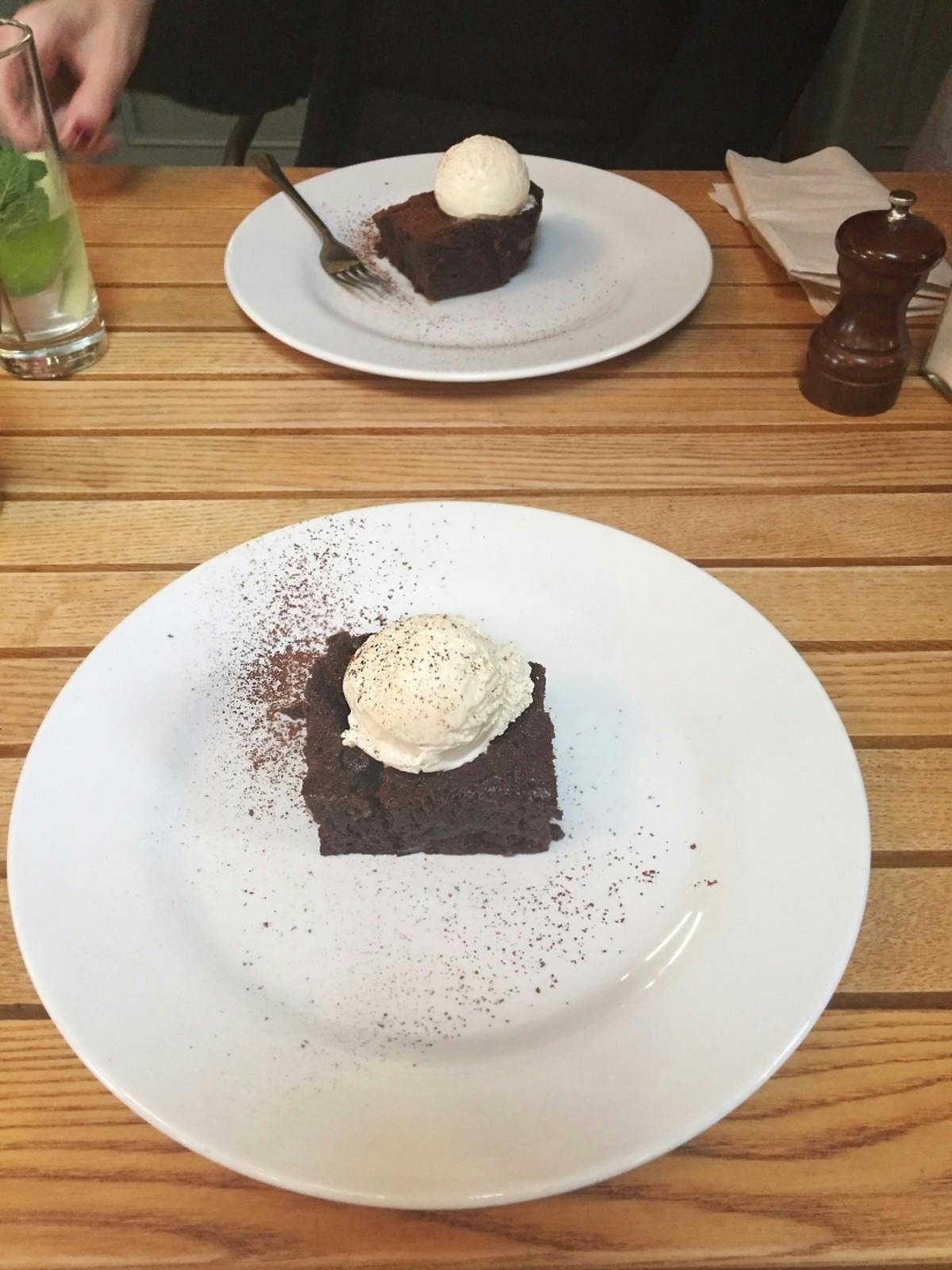 For dessert, we both opted for the gluten free, vegan brownie with vegan ice-cream. I've eaten-in at Wild Thyme a few times now, and I know better than to leave without trying this ridiculously good brownie. I would say to anyone thinking of going to Wild Thyme, that this is a must! I now HAVE to order it every time.
Seriously, this brownie should be the stuff of legend. It's so warm, gooey and chocolatey. I'd go as far as saying it's the best brownie I've ever had – and I still can't believe it's vegan and gluten free! What is this magic?! Anyway, try it. You won't regret it!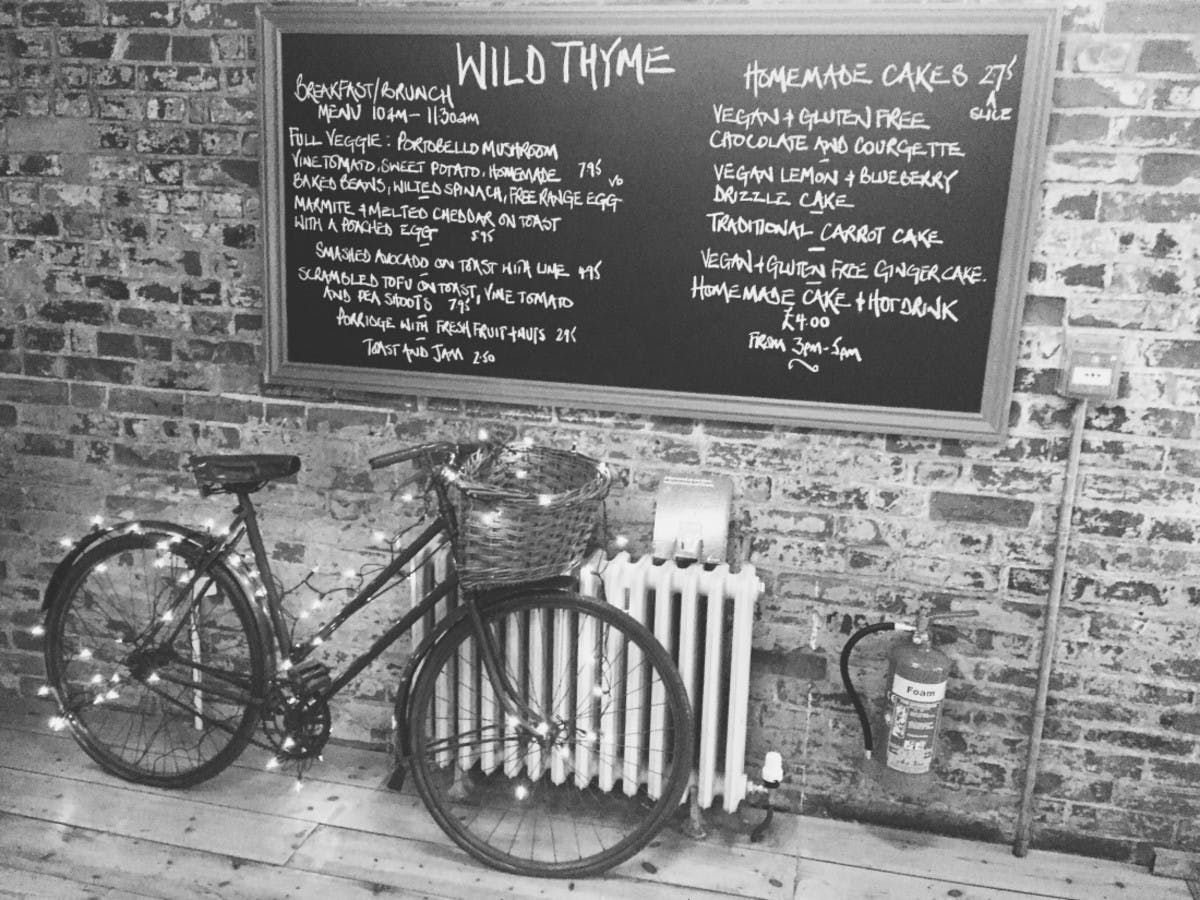 Overall, we couldn't fault the food, service or ambience at Wild Thyme! If you're local to the Norwich area, or just visiting, I would wholeheartedly recommend it to all vegans, vegetarians and meat-eaters alike! But please don't forget what I said. Order the god-damn brownie.
If you're interested in checking it out, Wild Thyme is open on Monday – Wednesday: 10am to 5pm and Thursday – Saturday: 10am to 8pm. It is also available for private parties and functions.